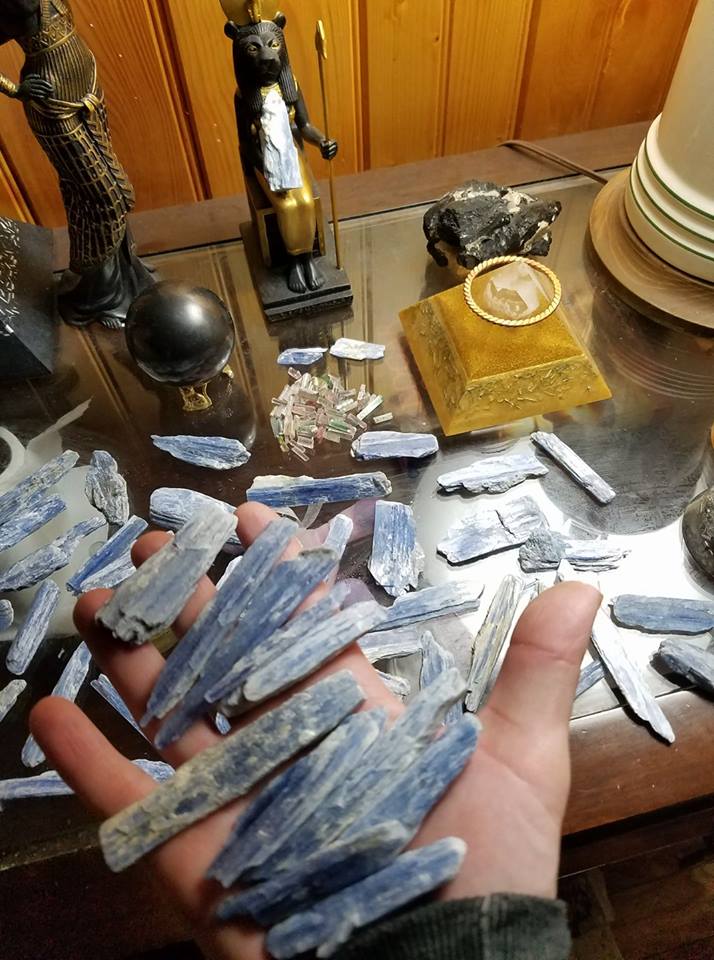 Store: Crystals, Patreon ,Tensor Tools and more!!!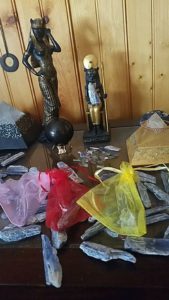 Simple Order Instructions
To make a purchase follow these easy steps
Click paypal link located various places on this page
Enter in total dollar amount of items
include address and specific items you want in notes on paypal
Kyanite: from Deep in Brasil this special rare crystalline mineral maintains the magickal charge encoded within it forever. Kyanite never has to be cleansed and is very powerful. It assists in meditation, dreamtime , kinetic energy, remote viewing, healing , psychic powers, and most definitely past life experiences.
Ra is a hereditary shaman and knows how to charge and program objects like stones and crystals with a healing vibration!!!! He charges the blood in his body with the healing vibration and intention than transports that into the lungs, than breathes out the intention into the object with a magickal charge. Some shamanistic communities call this the Odic Breath and using the Odic Force. Ra teaches this to his subscribers on his Patreon.
The Crystal currently available is Kyanite. Ra chooses a random piece from the stock and charges it with a healing vibration. Big or small all pieces have a magnetic energy of its own and depending on size some purchases will contain more than one piece.
COST : in the United States the price is $30 shipping included. http://paypal.me/RCastaldo
This piece and charge will last forever and is a priceless piece of the Universe, this is one of Kyanite's main properties (maintaining it's energy) and why Ra chooses to work with it. Ra also names each crystal and chooses a special colored sage cleansed baggie to send it in. The whole experience is truly magickal.
Outside the United states may be more for shipping
Paypal link is here https://paypal.me/my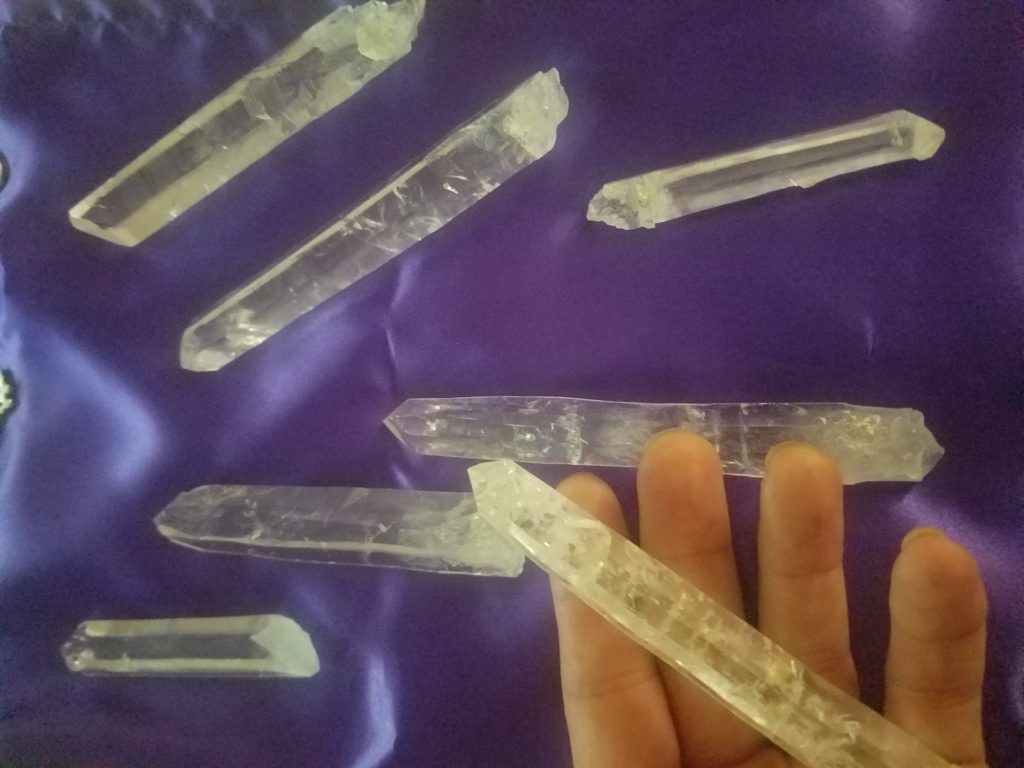 Lemurian Laser Wands ( Jumbo $75 Baby Wand $45)
pictured above are very powerful and very rare Lemurian laser points . Ra uses these to make custom Wands for energy work!!! Healing, meditation and all spiritual activity will be boosted !!!These have a different feel than quartz, and extremely powerful, feel the healing sensation and powerful connection to your higher self each time you pick one of these up!!! Ra is a hereditary shaman and knows how to make a very powerful and balanced wand like no one else out there!!!!get your custom Lemurian wand today!!!! Jumbo Wands are $75 and baby wands are $45 http://paypal.me/RCastaldo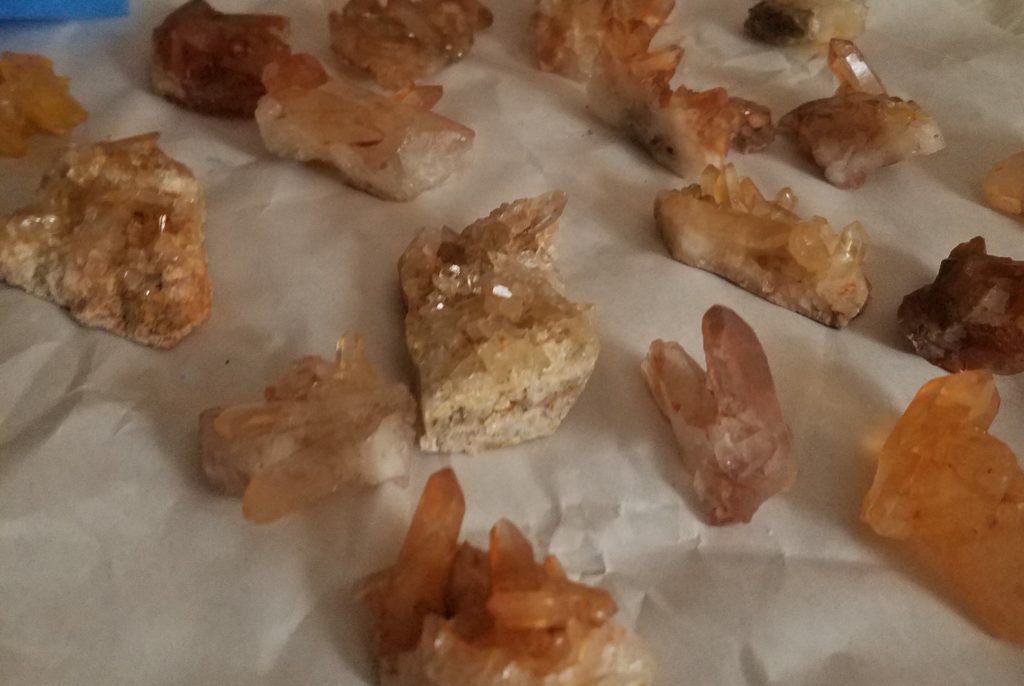 pictured above are Golden Healer clusters!!!!
Golden Healer Cluster Amulets: price is $50
These golden Healer amulet clusters come in a sage bathed golden healer amulet shamans pouch(large size). They contain a healing vibration to help with the greed and materialism infecting society. Balance emotional and physical stress and so much more!!! Very strong !!! carry it with you always in your Golden Healer pouch as a protective and healing amulet! get yours now here!!!!!http://paypal.me/RCastaldo 
see picture below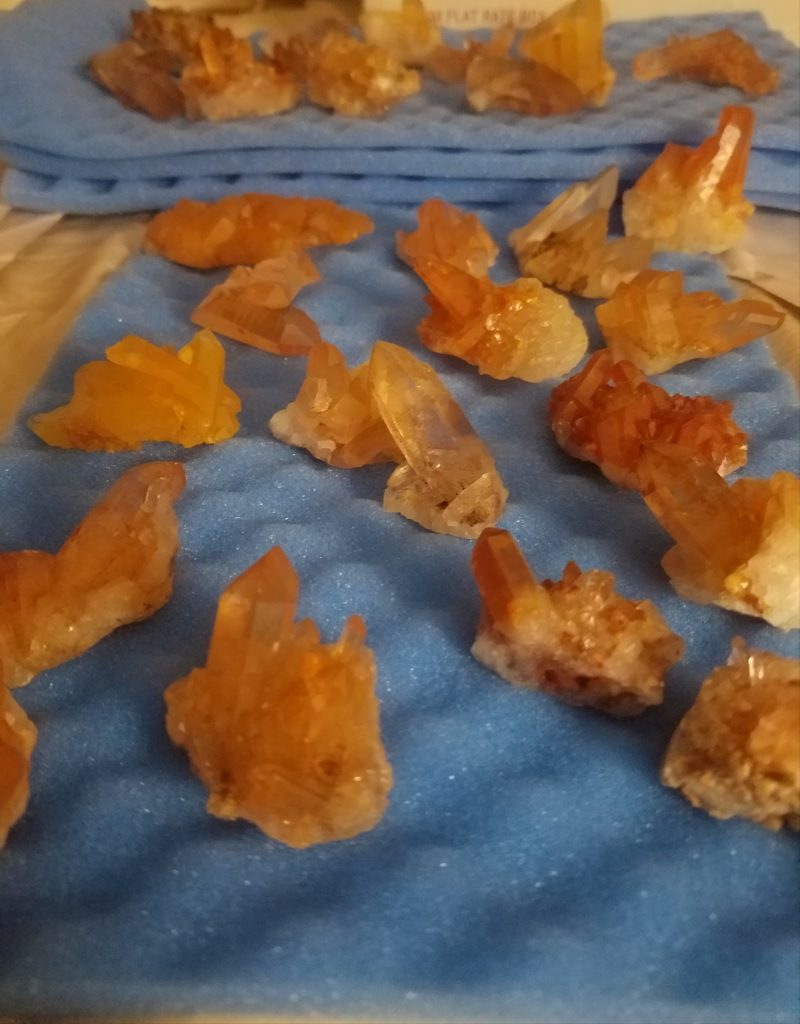 Tensor tools
All Tensors tools come with a crystal of Ra's choice and necklace/bracelet material!!! Amazing package of energy tools!!!!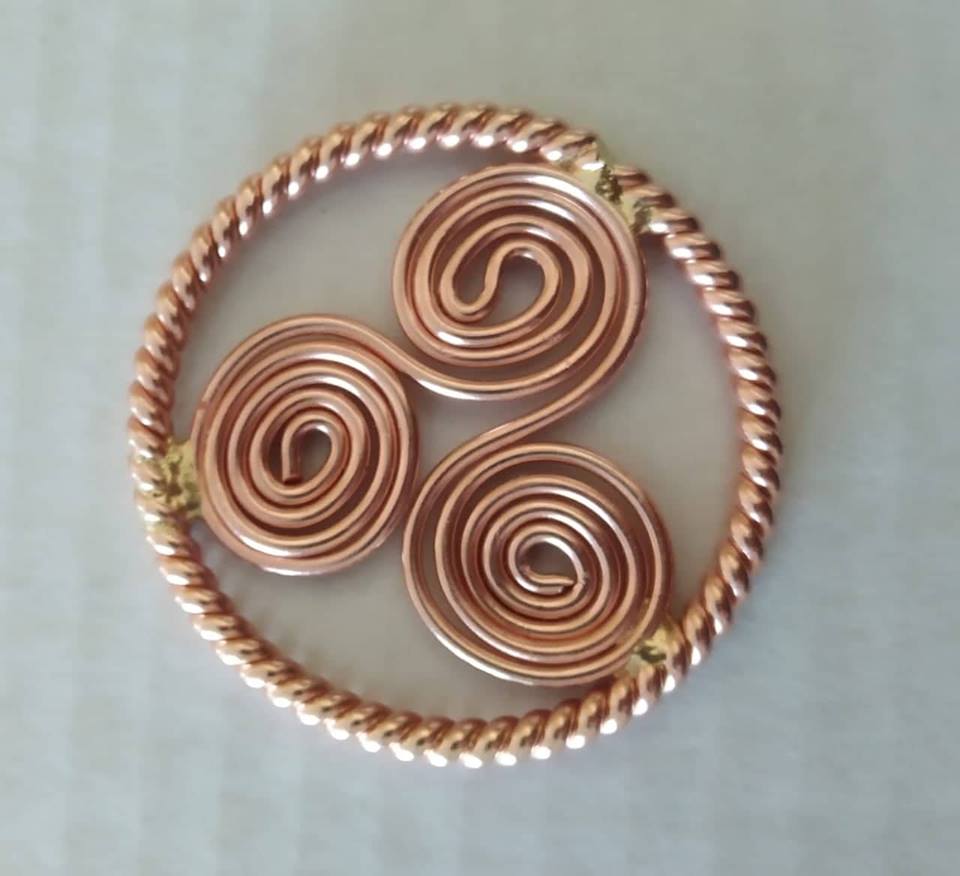 This amazing series a once in a lifetime purchase. Included is a free crystal and pendant material.  Made from the purest  99.99% copper the  Dream-Catcher Spiral Out Tensor is designed for emf protection , improves physical stability, balances emotional issues, clears blockages and relieves pain, elevates energy levels, reduces fatigue, designed to form an energetic force-field that protects your physical body and your energetic layers, designed to protect you in the spiritual realms during dream-time. Ra also uses a frequency generator with orgone pyramids power devices at 432mhz to enhance the power of this tool. $49.99
or crystal package is  $69 Shipping included with crystal and pendant material (outside U.S. shipping may be more) 
 http://paypal.me/RCastaldo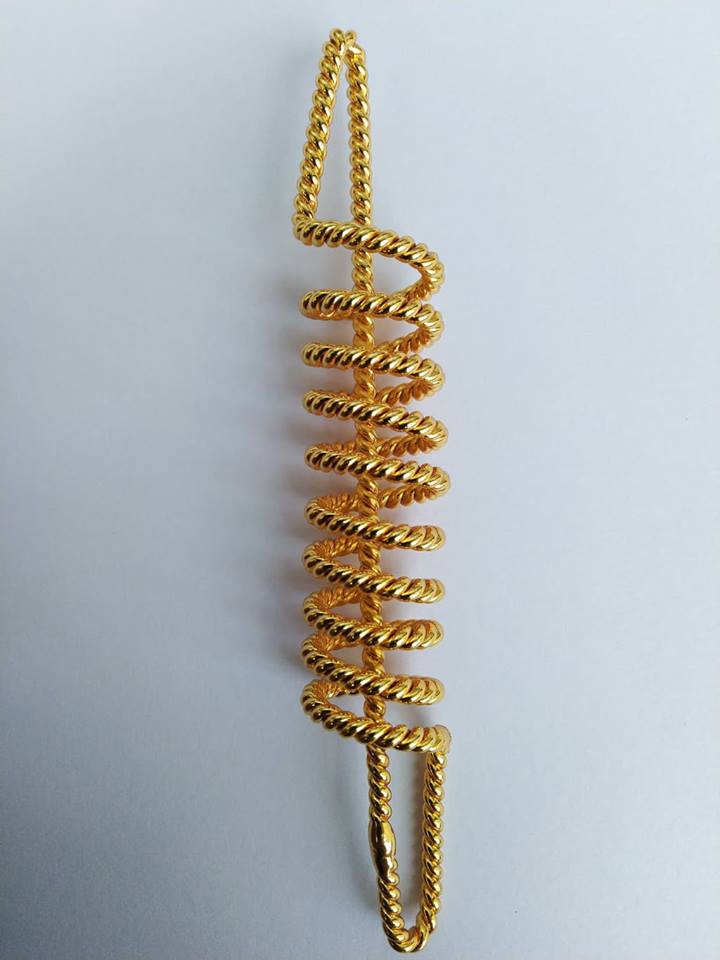 The Daywalker Acu-Vac Spiral DNA series is 99.9 percent pure copper,Pulls Pain out of Body!!!Protects from harmful frequencies, designed to maintain mental, emotional and physical balance, EMF protection, 5g protection, Ra has specifially designed this to protect and activate your genetic and ancestral memory. Protects you in the light and the Dark, designed to uses on acupressure points and also amazing when used on sick or injured Pets!!!Balances energy points in body…Get your Daywalker Spiral DNA now. $49.99 or crystal package is $69 shipping ,crystal and necklace material included.
http://paypal.me/RCastaldo
Once in a lifetime purchase!!
(shipping outside U.S.A. may be more)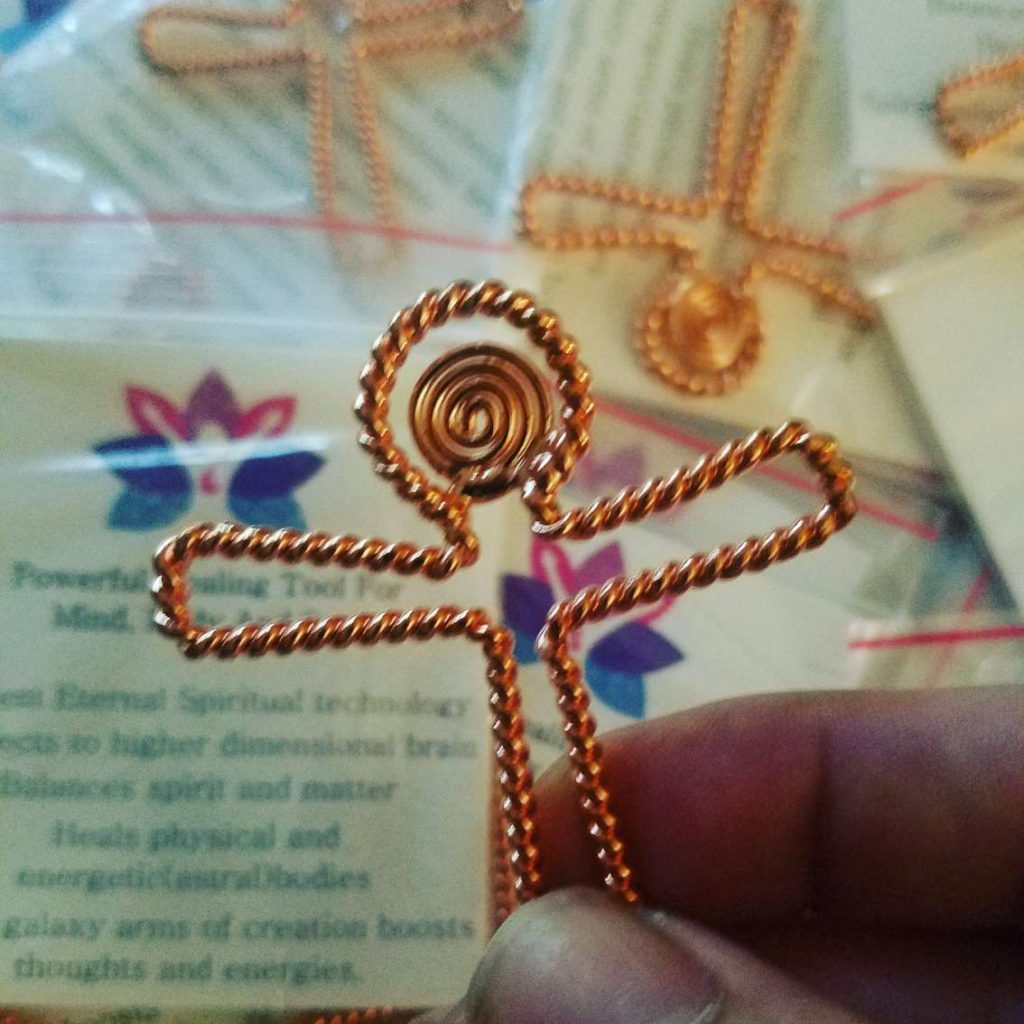 Crux Ansata Spiral out Tensor Tool is A New One of A kind custom Tensor Spiritual technology
Ra Castaldo has custom designed this one of a kind spiritual technology. Unlike anything available anywhere else. Designed after our own human body , designed to connect us to our higherdimensional brain, eternal spiritual technology that protects both spirit and matter, protects from emf, 5G, aligns physical and spiritual bodies, modeled after spiritual awakening experience, protects body during dream-time, enhances psychic ability, fights mental illness, helps with emotional and physical pain/stress http://paypal.me/RCastaldo
$49.99 (69.99 with crystal and pendant)